Information Regarding Compensation Following Bus Drivers' Strike
Dear parents,
The requests for compensation are being processed. Thank you for your patience.
WHY CHOOSE TO SEND YOUR CHILDREN TO ENGLISH SCHOOLS?
"It is your right, your choice and OUR pleasure to teach your children.
In Quebec it is a privilege to send your child to our English schools as The Charter of the French Language C-11 (Bill 101) restricts access to eligible families. If your child has the right to take advantage of this opportunity here are the reasons we think that you should contact us to register your child today:
TO SECURE YOUR CHILD or grandchild's access to English education
SMALL classroom sizes
INDIVIDUALIZED approach
EXPOSURE to English and Mi'kmaq cultures
Excellent EXTRACURRICULAR programming
Rank among some of the best SUCCESS RATES in the province
IF YOU HAVE ANY QUESTIONS REGARDING YOUR CHILD'S ACCESSIBILITY TO ENGLISH EDUCATION OR WOULD LIKE TO REGISTER YOUR CHILD:
Consult who is eligible to English School
In order to qualify for English Instruction in Quebec Public Schools, students must meet certain eligibility criteria under The Charter of the French Language C-11 (Bill 101) As set out by the Quebec government. Consult: http://www.education.gouv.qc.ca/en/parents-and-guardians/instruction-in-english/
or CONTACT
Donna Major: 418-752-2247 EXT 256
or registration@essb.qc.ca
Parent Portail
With Mozaïk-Portal for parents, stay in touch with your child's school wherever you are and at all times! Find all the information you need to track your child's success, all in one place, regardless of whether they are in elementary school or high school.

Homeschooling
When a parent chooses to homeschool their child(ren), the parent becomes entirely responsible for providing appropriate and quality teaching. The parent must meet certain expectations as outlined in The Home-schooling Regulation. The regulation gives precise information about these conditions as well as on the roles and responsibilities of the various partners in education.
Special Needs Advisory Committee (SNAC)
SNAC is the Special Needs Advisory Committee.  It advises the school board on policies that apply to students with special needs.
For more information:
Please see the attached brochure, Page 1, Page 2
SNAC Meeting Minutes

2021/2022
Click the image below for the rules and regulations for the internal management of SNAC: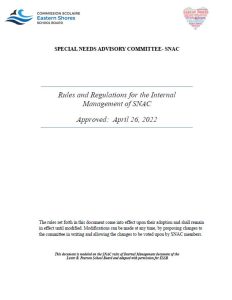 Transcript Requests
Please contact Donna Major at 418 752-2247 ext 256.